I'm flattered that so many of my readers have contacted me to ask what I'm working on.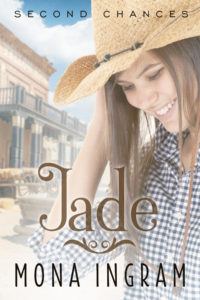 Presently I'm working on Book Five in the Second Chances series. This one is Jade's story, and I'm having fun with it. I always have a general idea what's going to happen when I start a story and since this one fits in with what came previously, the reader has a good idea of the direction, but I'm still often surprised by the little things that come up as I write.
I try not to put words in the characters' mouths, but instead to follow along with them as they go on their journey. The surprises keep the stories fresh and for me as a reader as well as a writer, that's important.
Here's the blurb I wrote:
Jade Dawson loves movies. A skilled makeup artist, she's hired to work on a classic western movie being shot in Chance, California.
Mega movie star Zach Crawford is wrongfully accused of inappropriate behavior, putting his reputation in peril.
Jade suggests a diversion and agrees to act as his girlfriend when they return to Los Angeles. The plan works, but she doesn't anticipate falling in love with the handsome movie star. Heartbroken, she returns to Chance and tries to forget the only man who ever captured her heart.
Now I'd better get back to work and see what happens….