Hello March!
It's been a long, cold winter and although we're unlikely to get any more of the white stuff, the piles of snow in the parking lots around town are still fairly high.
I'm confident that spring will arrive eventually. A few days ago a small family of Common Mergansers landed right in front of me when I was down by the lake, and the Coots aren't bunched up in huge rafts any more. The weeping willows still don't have that shimmery yellow glow that appears before they start to leaf out but when that happens I'll know it's time to dig out my spring jacket.
During the long winter days when I wasn't writing I found some new authors. As I've mentioned before, I usually read outside my genre for a break. This winter I read everything by Daniel Silva. He has somehow managed to create an interesting and relatable character in Gabriel Allon, even though Allon is an assassin for his government.  Another aspect of Silva's work is the diligent research put into each story. I always learn something new.
I also discovered Mark Gimenez. Most of his books are set in Texas, a state I know very little about.  Gimenez manages to capture the passion Texans feel for their state which makes his stories even more compelling. His main protag is a lawyer, but the stories are more mystery- than courtroom-oriented. I wish he'd write faster as I've read them all.
Some of my readers have asked what I'm working on now. It's a fun project – a 5-book series plus a prequel, titled Second Chances. As usual, the series has a theme and each story features a woman plus the man she eventually falls in love with. The stories are linked, and there's not a cliff-hanger in sight!! Here's the prequel cover. When I'm a bit farther along, I'll send a link to my mailing list for a free download of the prequel.
In the meantime, I hope you enjoy whatever you're reading. Nothing like losing yourself in a good book!!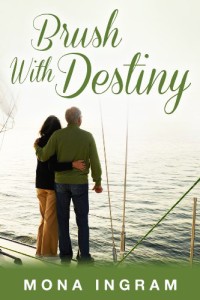 ps:  Amazon just informed me that they have put my book Brush With Destiny on sale for the month of March. They have set the price at 99c for US markets. Sometimes the reduced price applies to Canada as well, but that's not something I can control. It's a great story set in the Gulf Islands of British Columbia. Here's the link:  http://www.amazon.com/dp/B00A9SCZO2
… and since we're talking about what's on sale, I have priced my Box Set for the Forever Series at $2.99 for two more weeks. 8 novellas for $2.99!! Here are the links:
Amazon US:  https://www.amazon.com/dp/B01N0GLA7M
Amazon UK:  https://www.amazon.co.uk/dp/B01N0GLA7M
iTunes:  https://itunes.apple.com/us/book/id1178873296
B&N:  http://www.barnesandnoble.com/w/1125190211?ean=2940153533605
Kobo:  https://www.kobo.com/ca/en/ebook/forever-series-box-set
Thanks for reading. Now back to work!