Writing is a solitary occupation. You've heard that often enough from other authors, I'm sure. But that's our choice and let's face it, writing with someone else can be a real pain.
As I sit here today at my solitary writing gig, my mind wanders. No, not that way! It wanders because I'm writing the last book in the Forever series, and all of the characters I've created are elbowing each other out of the way, demanding to be mentioned one last time.
It's my own fault, of course. Many of the characters know each other throughout the books, and anyone who has read them all knows that Jodi was mentioned in each and every one. A couple of readers have even been astute enough to see ahead, and asked when Jodi's story was coming.
Well, this is it. I'm calling it Forever and a Day, and my talented cover artist sent me the new cover today, which is what prompted this blog.
I'm go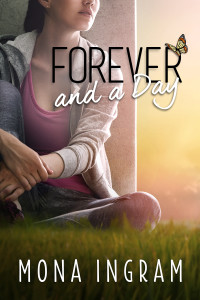 ing to miss all the characters who became my friends during the writing of this series. When an author does his/her job, the main characters are likable as well as memorable. I know I have to let them go, but before I do, I decided to review each of the books and mention the ones that have become my favorites.
Forever Changed. There are actually two here. Blaine, the tattoo artist is seriously hot stuff. And I found Ariana's grandmother Jacqueline quite fascinating as well.
This Time Forever. I like anything to do with pilots, so Jesse caught my fancy. As did Carly, the young teenager who works in the diner.
Now and Forever. This one is easy. I fell in love with Danny (Brett's son) from the moment he jumped into Jenna's car.
Forever My Love. Buddy appealed to me. I liked his loyalty, his wisdom, and his willingness to take another chance on love.
Forever Christmas. Tori's mother Clarissa was interesting, even though her depression kept her 'out of it' for much of the story. I liked the way she came back to life. And Adam interested me so much he's coming back in the last story as a secondary character.
Forever In My Heart. No question here. Matthew is a genuine hottie. And Natalie's daughter Brianna is also memorable.
More Than Forever. I found myself rooting for both Bonnie and Marty. Both had emotional scars but didn't feel sorry for themselves. Who better to win the lottery!
Forever and a Day. This is Jodi's story. Sorry, you have to wait… I'm still working on it!